A New Trend In Kids Fashion
Young parents used to view shoes and clothing for their children as a necessity until a few years back. Although there was a desire for their children to be dressed in fashion, the world of fashion was not accessible to them. Most department stores were located in Tier 1 cities and offered limited selections, styles, and quality for shoppers. This gap has been closed by the rise in kids fashion brands. Brands have created new categories by offering consumers the most recent trends in sub-categories that they don't have in the past.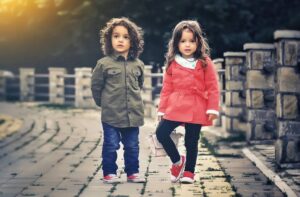 The Growth
Barclays, a UK-based bank, claims that India's kids fashion experienced a remarkable 29.2percent growth rate, reaching $5.5Bn in 2018. It is projected to reach $14Bn by 2022. Another study seems to confirm that both the men's' and women's fashion markets are saturated and that there is a shortage of affordable children's clothing, making it the most exciting market. The improving socio-economic situation suggests that Indians spend more on their children's clothes than ever before.
Advertising
Research in India has shown that mothers and fathers, particularly mothers, are extremely aspirational. They want their children to be fashionable from head to toe, but at a reasonable price. We see that Indian parents are fashion-conscious and seek out the latest trends at every stage and age of their child's development. Our data suggests that parents start dressing their children in infant fashion from age 1. Parents shop for their first look between the ages two and five and six and nine. They then buy separate pieces and feel more confident mixing and matching. Another trend is in the children's wear market. It is more skewed towards men (60percent: 40%per cent), but brands that are better suited to girls can buck this trend. We conclude that traditional western brands are not able to effectively serve Indian customers. We see huge potential to create affordable clothing for Indian children, given the inability of Indian parents to find relevant and sustainable options.
The Mindset
However, Indian brand retailers continue to be obsessed by western brands. They seem to have forgotten the nuances and little details of Indian consumers. Our data shows that parents are willing and able to shop for and spend when they understand their needs. Think about the mini-me trend, where girls wear similar clothes to their moms and boys follow the same fashion trends as their dads. Adult fashion trends like bling and velvet have also found a home in the children's wear space. When it comes to choosing the right look for their children, parents are more adventurous. This insight led to more kids' wear brands offering more colors and hues than both men's and woman's fashion brands. What is the most interesting thing about customer needs is their dispersion. Many brands make the mistake of thinking that shoppers are concentrated in metros and urban areas. Our data proves the exact opposite. This may be due to India's growing purchasing power and the global exposure parents have through social media. It's encouraging to see that people from less-known parts of India are buying more than those from metro cities. Also, kids-fashion is a growing trend.