Garment Workers Will Survive The Fast Fashion Apocalypse
The world is on lockdown, and for many of us, that means buying new clothes (or even getting dressed at all) is the last thing on our minds. On the surface, this could be spun as positive news for ethical fashion. A pause on overproduction and overconsumption, more people than ever mending and upcycling their clothes, and high street retailers closing their shutters. This is what we wanted, right? Unfortunately, as usual, the most vulnerable and marginalized cogs in the supply chain are hit the hardest in crisis – garment and textile workers.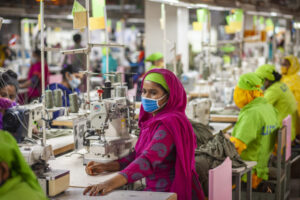 As a rule, clothing and textile factories generally invest in products with the assurance of payment from brands several weeks in arrears, after manufacture and distribution. With those major global retailers now cancelling billions of dollars worth of orders seemingly overnight, factories are now being forced to send their workers home without pay and without promise of a job to return to. A new report by The Center for Global Workers Rights has found that more than one million garment workers in fashion production capital Bangladesh have already been fired or temporarily suspended from work as a result of order cancellations and the failure of buyers to pay for these cancellations. 72.4% of furloughed workers were sent home without pay, and 80.4% of dismissed workers were sent home without severance – completely disregarding national and international labour rights.
Will Garment Workers Survive the Fast Fashion Apocalypse?
Fashion isn't just made in factories either – Fashion Revolution has shared that around two billion informal home-based contractors contribute to the global economy, without labor, social and health protections. According to the Fair Wear Foundation, international clothing brands have a responsibility for the workers right across their supply chains, no matter where those tasks are outsourced. On the other side of the fast fashion coin is an influx of 'working from home' loungewear from e-commerce giants, which puts factory workers at a high risk of getting Coronavirus by continuing work to meet this new demand. According to the union Industrial, employers in Dhaka failed to recognize national social distancing measures by insisting workers needed to report to factories to receive wages and retain their jobs. Meanwhile at ASOS, warehouse workers in the UK told GMB Union they were provided with no face masks or hand sanitizer, and reported feeling terrified for their health in cramped conditions.
While fashion may not be deemed an 'essential' purchase, protective clothing and face masks are a new international production priority, with dozens of suppliers switching from trend-led clothing to PPE. Unfortunately, in many cases this supposed good deed is yet another form of greenwashing; a powerful PR stunt that literally masks the exploitation of workers behind closed doors. No matter the urgency of demand, the conditions in which this important equipment is produced needs to be under the very same scrutiny as any other type of manufacturing. As climate activist Josephine Becker wrote on her Instagram recently: "These brands are changing their products, NOT their ethics."
Fashion is one of the world's most labor intensive industries, and those millions of pairs of hands that create the outfits (and now PPE) we covet have become the collateral damage of fast fashion brands who have failed to protect them once more. While retailers beg for rent relief to keep profits flowing into investor's pockets, the 'silver lining' of these suddenly slower fashion cycles is starting to tarnish. So, now more than ever, it is vital for the ethical fashion community to mobilize digitally and help garment workers survive this fast fashion apocalypse – but what can we actually do to help?
As Greta Thunberg reminds us, no one is too small to make a difference. At a time where many of us feel overwhelmed by our own struggle to survive, an act as small as signing a petition online will add your voice to thousands of others. Remake Our World's #PayUp campaign is an excellent place to start, urging major retailers like Gap and Urban Outfitters to reimburse garment factories for cancelled orders. This kind of consumer pressure may seem simple, but it works. Already, Primark has announced a wage fund for garment workers in response to criticism. In the same vein, 20th-26th April marks the seventh annual Fashion Revolution Week, a global campaign to remember the Rana Plaza disaster and transform exploitative fashion industry practices.
This year, they are urging everyone to ask their favorite brands #WhoMadeMyClothes to encourage greater supply chain transparency. This is particularly important for brands and suppliers to enable collective action, so that garment workers are able to exercise their right to unionize and negotiate their working conditions – a vital solution for the thousands of garment workers facing redundancy without severance pay. Finally, and most importantly, we need to support the sustainable fashion brands that have shown they care about the people who make their products. Birdsong are prioritizing the welfare of their workers through emergency fundraising, Reformation are ethically manufacturing much-needed PPE for health workers, and Toms is donating of its profits to those on the front lines of this crisis. In many ways, this retail apocalypse is the utopia we have been rallying for. But while the break from hyper-consumption may feel welcome, the community is backtracking on hypocritical ideas that fast fashion should be boycotted or even banned, and instead focusing on protecting fashion's most vulnerable workers.